Commercial HVAC Service & Repairs
Service and Repairs to your HVAC equipment varies and is contingent on different factors that include maintenance, the operating environment and the units run time. Shumate's Commercial HVAC Service and Repair division is ready to dispatch one of our experienced service technicians to your facility in Metro Atlanta, North Georgia and surrounding areas.
All our 40+ service technicians are EPA Certified, trained, experienced, and arrive on-time with the help of our qualified service coordinators that take your service request and dispatch accordingly. Committed to on-going factory training, our technicians receive updated training annually and are often able to perform service as a manufacturer approved representative.
We consider your company's security top priority and therefore all of our service technicians are screened prior to employment, arrive in marked Shumate Mechanical fleet vehicles, wear uniforms and present Shumate Mechanical identification. Shumate Mechanical is a Drug Free Workplace and therefore all technicians are tested for illegal drug use before employment and randomly as part of our ongoing commitment to provide a drug free workforce. Fully insured and licensed, Shumate Mechanical is equipped and ready to provide you with a single source HVAC service solution for service, repairs or maintenance.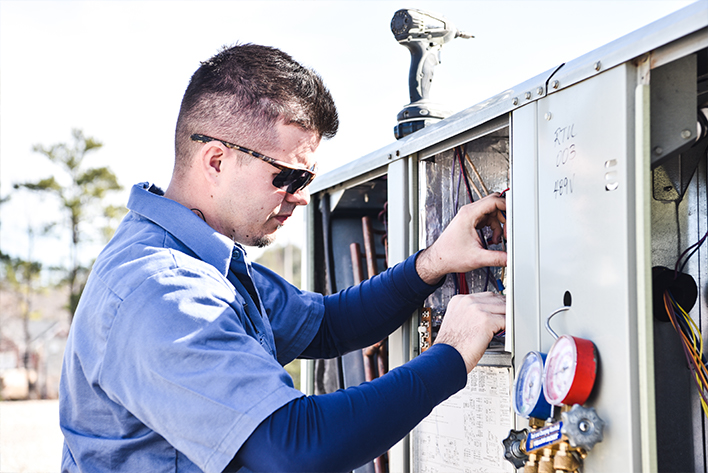 Commercial Heating and Air Conditioning Repair
Our technicians provide commercial heating and air conditioning repair services on equipment that includes:
Air Handling Units
Boilers
Chillers
Computer Room Units
Condensing Units
Cooling Towers
Exhaust Fans
Energy Recovery Units
Fan Coil Units
Gas Furnace
Heaters
Heat Pumps
Humidifiers
Make Up Air Units
Power Induction Units
Roof Top Units
Self Contained Water Cooled (SWUD)
Variable Air Volume Unit
Water Heaters