Safety is an integral part of every service and construction project and Shumate Mechanical equips all employees with gear and knowledge to work safely and responsibly from the initial job site survey, to the commissioning process. Safety training that includes the provision of safety manuals and review of safety videos, is conducted prior to an employee getting on a job site and is continuous as the project progresses.

Safety Training
Shumate Mechanical provides routine safety training and certifications as part of an inclusive Health and Safety program. Safety courses and programs include Shumate Safety Program, OSHA 10, OSHA 30, Fall Protection Competent Person, Lift Operation & Safety, Lull and Forklift Operation & Safety, Powder Actuated Tools, CPR & First Aid, Confined Space, Scaffold Competent Person, and more. This training empowers Project Managers, Supervisors and Foremen to work competently and promotes safety at the work place. Additionally, weekly training is conducted on each job site by our Foremen, concentrating on common safety issues and job specific safety awareness.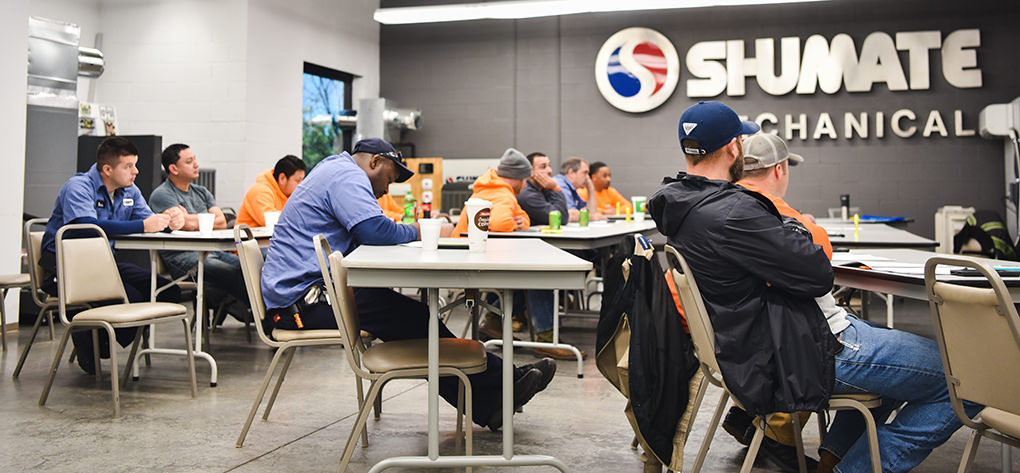 Safety Inspections
Shumate Mechanical partners with HB Training & Consulting to perform random job site inspections in addition to routine training. Inspections are performed to ensure field practices are compliant with Shumate Health and Safety program and OSHA regulations. Inspection reports are generated and reviewed as part of Safety Quality Control.


Safety Commitment

Shumate is committed to the safety and health of its workforce. An integral part of this commitment is trained employees authorized to enforce safety. Safety competency, personal responsibility and experience enhance each project manager, supervisor and foreman's ability to enforce a safe job site and encourage a workforce committed to safety.
Drug Free Workplace

Shumate Mechanical is a drug free workplace. All employees are screened prior to employment and subject to periodic testing. We believe a drug free workplace contributes to a safe workplace.